Zibi Krygier - bio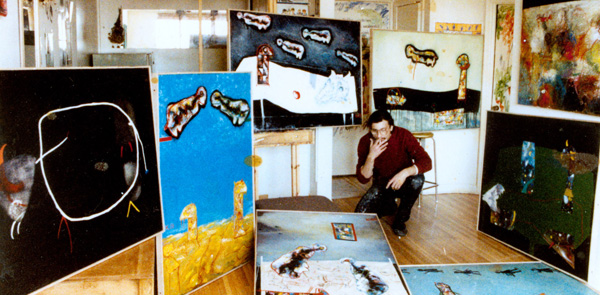 A graduate of the Faculty of Painting in the Academy of Fine Arts in Cracow, under the artistic supervision of professors Adam Marczyński and Andrzej Strumiłło. Following his studies, since 1980 he has created and lived abroad, in the US, France, and Canada. Currently he lives in Warsaw (Poland) and Toronto (Canada).

Participating in numerous individual and collective exhibitions in Paris, in the Grand Palais (Salon de la Jeune Peinture, Salon d'Automne and Salon des Indépendants), New York, Oslo, Mexico, and Toronto .

The paintings of Zibi Krygier have attracted a group of enthusiasts. The entire collection of oil paintings, created during his studies, is in private art collections in the Netherlands. The paintings from the subsequent period are in private collections in the US, Mexico, Canada, France, the Netherlands, Norway, Germany, and Poland, among others.

In 1987-1992 Zibi Krygier was commissioned to design clubs in New York, among which is the Mondo Cane Blues Bar, and Wonderland Blues Bar.
Since 1998 he is also involved in artistic photography.
About art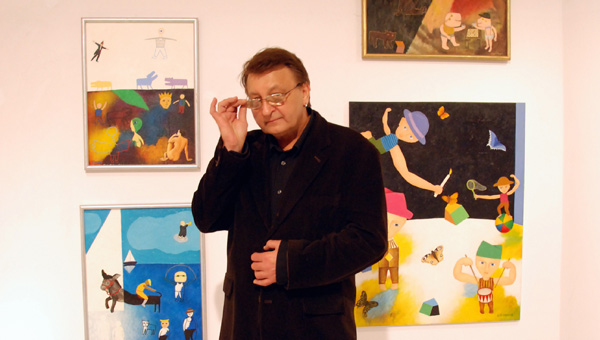 His paintings are the kind of mental shortcuts, in simplified form, a sort of grotesque, childish fun. Both intriguing and puzzling. They are abound with nostalgia for something elusive; dreams, capturing the passing moments of joy.

"Art by Zibi Krygier entertains with a colour, symbolism, and above all an affirmation of life, because the artist is in love with people and the world, which distinguishes his art by way of positive energy. Valuable art flirts with the imagination to produce real reception. Frequently art happens to be more real than reality, as it discloses a quintessence of our desires, passions and longings. We will find here many emotions, and dreams, the world's scent becomes palpable. Such is the art of Zibi Krygier which appeals to so many, which is the reason for the artist's success" - Katarzyna Gniewecka "Nowojorczyk życia" Magazyn – Just Quality 12/2009
Education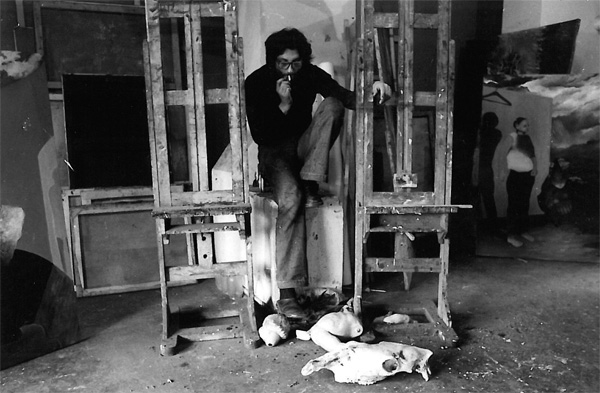 1975/1980 the Faculty of Painting in the Academy of Fine Arts in Cracow, under artistic supervision of Adam Marczyński
1980 Diploma under prof. Andrzej Strumiłło
Selected Exhibitions (solo)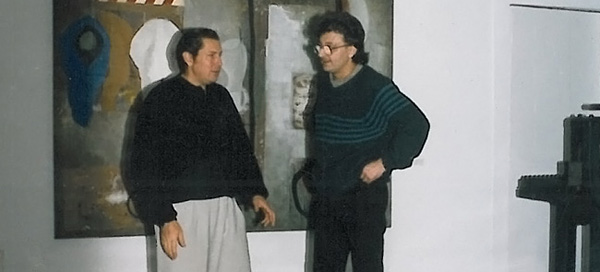 Zibi Krygier with Julian Schnabel
2011 Art Villa, Warsaw, Poland
2008 STUDIO Buffo, Warsaw, Poland
TVN, Augustówka, Warsaw, Poland
Chrysler Jeep Car Salon, Warsaw, Poland
Karma Cafe, Warsaw, Poland
2007 Rio Gallery, Warsaw, Poland
1999 Chestnut Art Gallery, Warsaw, Poland
1992 Nebb Gallery, Oslo, Norway
1989 Janus Screen Graphics Studio, New York, NY, USA
PAAS Artworks Gallery, New York, NY, USA
1987 Minor Injury Gallery, New York, NY, USA
PAAS Artworks Gallery, New York, NY, USA
1985 La Malvas Gallery, Montreal, Canada
Cultural Center Gallery, Toronto, Canada
1984 CCVRR Art Gallery, Paris, France
Selected Exhibitions (group)
2011 New York In Warsaw, Fabryka Trzciny, Warsaw, Poland
2006 L.V.A.C. Art Gallery,Toronto, Canada
1998 Business Center Club, Warsaw, Poland
Chestnut Art Gallery, Warsaw, Poland
1997 BWA, Zielona Góra, Poland
1996 Chestnut Art. Gallery, Warsaw, Poland
1994 BWA, Zielona Góra, Poland
1991 Museum Zacheta, Warsaw, Poland
Cb's 313 Gallery, New York, NY, USA
1990 Westhampton Sq. Gallery, New York, NY. USA
1989 Graduate Center Gallery, New York, NY, USA
PEMEX Gallery, Mexico City, Mexico
Del Bello Gallery, Toronto, Canada
1987 Ariel, Gallery, New York, NY, USA
1986 La Malvas Gallery, Montreal, Canada
1985 Experience Gallery, Ottawa, Canada
1984 Städtische Galerie, Landau, Germany
7th Grand Prix International of Paintings, Breau, France
1st Prix of Paintings, Toulouse, France
Salon des Indépendants, Grand Palais, Paris, France
1983 Salon d' Automne, Grand Palais, Paris, France
34th Salon de la Jeune Peinture, Grand Palais, Paris, France
1982 33th Salon de la Jeune Peinture, Grand Palais, France
Press

2009 Magazine Solidna Firma – Obrazy Zbigniewa Krygiera w Studio Buffo (Paintings of Zibi Krygier in STUDIO Buffo)
2008 Magazine VIP – Wystawa Zbigniewa Krygiera w RIO (Exhibition of Zibi Krygier in RIO Gallery)
2008 Magazine Solidna Firma – Wystawa malarstwa Zbigniewa Krygiera w Galerii RIO (Paintings exhibition of Zibi Krygier in RIO Gallery)
1993 Newspaper Dagbladet – Anxiety among teddy-bears, Harold Flor, 2 styczeń, Oslo, Norway
1992 Newspaper Arbeiderbladet – Nebb til lunsj, Anne Hoff, 5 grudzień, Oslo, Norway
1991 Magazine Sztuka – Prezentacje (Displays - Art) March, Warsaw
1989 Art World – Malarstwo Zbigniewa Krygiera, Jacek Gula (Paintings of Zibi Krygier, Jacek Gula) April, New York, USA
1987 Greenpoint Gazette – Malarstwo Zbigniewa Krygiera (Painting of Zibi Krygier) 18 November, New York, USA
1986 The Gazette – Artist puts his work in focus, Gary Freeman, 26 September, Montreal, Canada
1985 Newspaper The Citizen – Exhibition shows diversity of modern Polish art, Derek Oliver, 18 November, Ottawa, Canada